Reymond Products History
Since 1958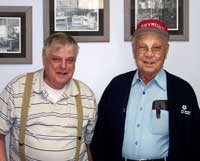 Reymond Machine was founded in 1958 by Ed Reymond. In 1966 he was joined by his nephew, Bob Reymond, who began his career as a die maker. Bob had previously worked at a local brick plant where he hacked and de-hacked brick for a living. As a die maker, Bob began working directly with customers on dies and took on other customer service issues relative to the process of making brick.

Throughout his 36 years of service to the brick industry, Bob has witnessed many production changes within the industry. The increased speeds at which brick are currently being produced have kept the extrusion die manufacturer on his toes in order to keep up with the demands that have been placed upon him.
---
Proven Dependability, Constant Innovation, Superior Customer Service
---
Although many of the Reymond die units look the same on the outside, constant changes have been made from within to create a superior product.
In 1999 ownership transferred to current management. As we continue our service to the brick and tile industry, we will continue to apply those values and beliefs that have made Reymond\'s name synonymous with outstanding quality and service for the past half of a century
THE REYMOND PRODUCTS TEAM